glehr

- Sun, 05/08/2011 - 13:51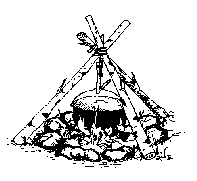 These two Dutch Oven Cookbooks should have almost everything you'll need to cook out of your dutch oven for the remainder of your days. I particularly like the "Geezer Cookbook", and the "Dutch Oven Cookbook" has the famed recipe for Australian Camel Stew. Also, here are some recipes from Boys Life and a link to Byron's Dutch Oven website.
Cleaning a dutch oven is normally an easy process. Just scrape it clean with the help of warm or hot water (no soap!), then dry and wipe it down lightly with some oil. It should look like a clean shinny surface but not oily to the touch. In extreme circumstances a dutch may need to be fully restored. Here is a link that describes how this is accomplished.